Catalina Island Activities: Stuff to do in Avalon, Two Harbors, on Land, on Water


Catalina Island activities: before you hit the beach, start with the town's iconic Casino which isn't a gambling casino at all) stands sentry on the western point of Avalon Bay's Main Harbor, surrounded on three sides by water.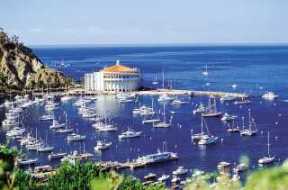 In its heyday the 12-story Art Deco building hosted big bands dances for 6,000, as well as theatrical productions in its downstairs theater. Today it shows first-run movies and its opulent interior is open for tours.


The Catalina Island Museum is also inside the Casino.




OLDEST SPORT FISHING CLUB IN THE COUNTRY



The Tuna Club, on the beach in Main Harbor, is the oldest fishing club in the United States and originated many of the modern fishing rules and sportsmanship guidelines now adopted by angling clubs all over the world.


The club was founded in 1898 and can boast a past member role including Theodore Roosevelt, Winston Churchill, General George Patton, Charlie Chaplin and Bing Crosby. The club's present building, on pylons over the beach, was built in 1916.



TAKE A HIKE



A hike up Avalon Canyon Road is worth the exercise for a visit to Wrigley Memorial and Botanical Garden. The Wrigleys in question (William Wrigley Jr. of chewing gum and Chicago Cubs fame and his wife) are no longer buried there, but their garden showcases native California and Catalina plants, including the rare Catalina Ironwood.


Wrigley's greater legacy to the island was the nonprofit Catalina Island Conservancy which owns 88 percent of the island and preserves it from development.



The public can enjoy the 75-square-mile island's vast, empty interior in moderation, thanks to the conservancy's carefully orchestrated guardianship, which requires visitors to obtain permits for most Catalina Island activities outside Avalon, although hiking permits are free.


Guided sightseeing and eco-tours are available by vehicle, bike, walking or horseback.





TWO HARBORS VILLAGE



Toward Catalina Island's western end lies the isthmus and village of Two Harbors (permanent population 298), slightly farther away from Avalon than Avalon is from the mainland. Buses shuttle back and forth between the two communities.


Two Harbors is popular for diving, hiking, snorkeling, kayaking, fishing, picnicking, horseshoes and camping. It's also home to the 1910 Banning House Lodge bed and breakfast and the Harbor Reef restaurant.



GOLF, DIVE, SEE FISH



For golfers, Catalina Island boasts the oldest course west of the Rockies, its nine hole, 2,100-yard layout is easy to walk or ride and golf equipment is available for renting.


Under the island's clear waters, Catalina has been ranked one of the top dive destinations in North America by Scuba Diving magazine.


Protected kelp beds off the Casino and in Lover's Cove are rich with the bright orange Garibaldi, California's state salt-water fish, opaleyes, calico bass, Catalina blue perch, spiny urchins, lobsters, starfish and octopus.


Many hotels hotels offer dive packages, and diving services on the island offer excursions for both experienced and beginning divers as well as snorkelers. For those who enjoy Catalina Island activities while staying dry, glass bottom boat and semi-submersible tours are a convenient way to view marine life.


Come in February and take part in the annual Avalon Harbor Underwater Cleanup, the only time divers are allowed in Avalon Bay.



EAT, STAY



For dining, try Armstrong's Fish Market and Seafood Restaurant. For accommodations, Avalon gets about a million visitors a year, so there's an extensive range of hotels, plus camping around the island.


Try the craftsman-style Avalon Hotel or for a room view a view, the adobe-style Zane Grey Pueblo Hotel, one-time home of the western novelist and high above Avalon.




Come back soon to our Catalina Island page. We'll be adding more Catalina Island activities.




Don't miss these related pages...

Catalina Island Introduction Page

Catalina Island Hotels and Accomodations

Catalina Island Restaurants

Catalina Beaches

Long Beach Introduction Page





---
Photos courtesy Catalina Island Chamber of Commerce and Visitors Bureau
---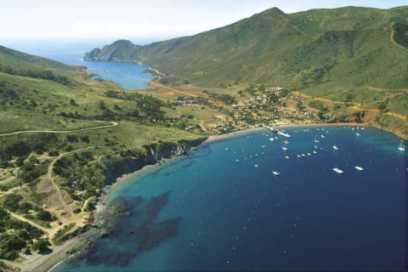 Return from the Catalina Island Activities page to the home page.