Huntington Beach: Eight Miles of Beach, Surfing, and a Favorite Destination for Families with Teens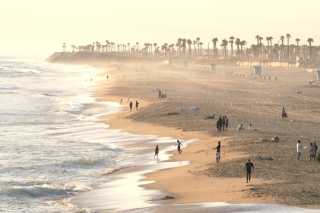 That 1963 Jan and Dean song, "Surf City" never named Huntington Beach as the city in question.


But for millions of fans dreaming of a perfect California beach vacation: surfers, sand and sunsets, the association stuck.


And for good reason. It has the longest uninterrupted stretch of beach on the West Coast, arguably perfect surfing waves, a long pier for fishing and strolling right in the center of its central beach.


It also offers accomodations in every price range and an eclectic restaurant scene all within walking distance of its beaches.


No wonder Dean Torrence of Jan and Dean, helps promote the city.


Families love its beautiful swimming beaches, more than 600 concrete bonfire rings, the Dog Beach and a funky downtown that's a surprise in the midst of Orange County's suburban sprawl.



GOT TEENS?



11 million visitors a year must be on to something, especially families with teens, who not only love the beach but also the Surfing Hall of Fame, the Surfing Walk of Fame downtown and the area's association with popular teen television shows.


In fact, The New York Post voted it "One of the Top Five Destinations for Teenagers and Their Parents" for 2004.



BEACHES, HARBOUR, NATURE RESERVE



The city's three beaches stretch eight and a half miles, with Huntington City Beach in the center, Huntington State Beach to the south and Bolsa Chica State Beach to the north, all with easy parking access.


Bolsa Chica is also known for its grunion runs.


The town is also home to Huntington Harbour (That's harbour with a u), a 25-acre equestrian center and Bolsa Chica Ecological Reserve, one of California's largest coastal wetlands restoration projects.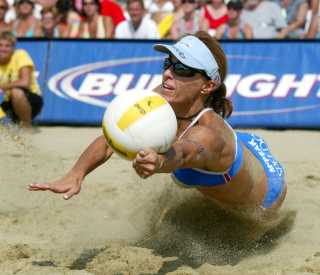 The city also hosts annual the annual U.S. Open of Surfing, the AVP Pro Beach Volleyball Tour and the Surf City USA Marathon.


The city's 350-plus acre Huntington Central Park, inland from the beach, is one of the largest greenbelt city parks in the region. Enjoy a theater, fountains and equestrian center.


If Frisbee golf is your thing, Huntington Central Park is home to the world's second oldest course.


For Huntington Beach dining, visit Duke's Huntington Beach (named for the Hawaiian surfing pioneer who brought surfing to So Cal) or at the very end of Huntington Pier, Ruby's Surf City Diner.



WAVES



Why do surfers consider the waves here special? Beaches here face southwest. The curve of the coastline here combined with the beach's juxtaposition to Catalina Island about 14 miles away, creates larger waves than on neighboring beaches. Surfers say the waves here also crest perfectly.



GETTING TO HUNTINGTON BEACH



The city is in Orange County, about 40 miles from Los Angeles and just north of John Wayne International Airport on the 405 freeway. U.S. Highway 1 runs along the beach through the city.



HUNTINGTON HARBOUR



Enjoy kayaking or even a gondola ride in Huntington Harbour with its calm waters, abundant wildlife and multi-million-dollar homes.


Peter's Landing Marina at the harbour entrance, is also the closest landing to Catalina Island and offers sport fishing and two-hour guest boat rentals on a first-come, first served basis for visiting diners and shoppers.


Photo Opportunity: During the Holidays, be sure to catch the harbour's evening Cruise of Lights, to enjoy lighted holiday decorations on waterfront homes.



CAMPING IN HUNTINGTON BEACH



Camping and RV parking is available at Bolsa Chica State Beach.




Come back soon to our Huntington Beach page We'll be adding more dining, activities and accommodation news.




Don't miss these related pages...

Surf City Beaches

Surf City Hotels

Surf City Restaurants

Surf City Beach Directions and Parking

Newport Beach Introduction Page

Laguna Beach Introduction Page

Grunion!




---
Photos courtesy of the Huntington Beach Conference and Visitors Bureau.
---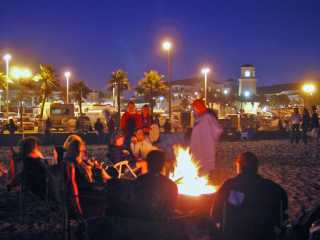 Return to the West-Coast-Beach-Vacations.com home page.