Huntington Beaches: City Beach, Huntington State Beach and Bolsa Chica State Beach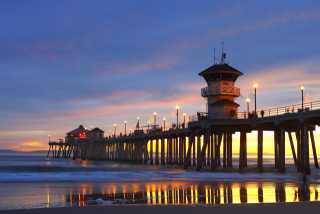 Huntington beaches. This oceanfront stretches eight and a half miles, with the city beach in the center, the state beach to the south and Bolsa Chica State Beach to the north.


Each has easy parking access.


Huntington City Beach is more than three miles long, home to wide, sandy beaches, volley ball courts, miles of jogging paths and bonfire pits.


Anchoring the city beach, Huntington Pier is a favorite with fishermen as well as families. It's also perfect for watching surfers.


Photo opportunity: Be sure to catch the sunset from the pier, then walk south along Highway 1 and see beachgoers' faces aglow in the light of bonfires.


The waves here may be great for surfers, but they also break far from the shore, making the beach perfect for swimmers. North of the pier remains primarily surfing territory; but the city reserves south of the pier for swimmers and boogie boarders.


DOG BEACH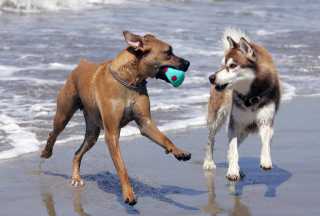 This stretch of sand has gone to the dogs -- at least between Seaport Avenue and Golden West Street, home to Dog Beach where some pooches even surf with their humans.


South of the pier, be sure to visit the Vince G. Moorhouse Lifeguard Headquarters, with its collection of terrazzo surfboards and body boards lined up along the outside wall.


Each board features the national flag of a country associated with surfing. The building is the centerpiece to the beach's 22 lifeguard towers.


The Junior Lifeguards program, which educates children about life guarding techniques, is especially popular in Huntington Beach, drawing participants from all over the world.


To the south of Huntington City Beach, visit Huntington State Beach which not only is a favorite with families because of its gentler waves, but is the training site for all California State Lifeguards.


Huntington State Beach is one of 85 state parks in California offering AT&T Internet access, or Wi-Fi.


Bolsa Chica State Beach



To the north of the city beach, Bolsa Chica State Beach is also known for its swimmer-friendly, gentler surf and its grunion runs.


Bolsa Chica also has a camping area, and like Huntington State Beach, is one of 85 state parks in California offering AT&T wireless Internet access, or Wi-Fi.
Opposite U.S. Highway one at Bolsa Chica State Beach, be sure to visit Bolsa Chica Ecological Reserve, once an oil industry wasteland, now coming back to life as a birder's salt marsh paradise. Flocks settle here as they migrate along the Pacific Flyway between North and South America.
The nonprofit Bolsa Chica Conservancy runs an interpretive center with maps, educational exhibits and printed materials.



CAMPING


Camping and RV parking is also available at Bolsa Chica State Beach.




Don't miss these related pages...

Huntington Beach Introduction Page

Surf City Hotels

Surf City Restaurants

Surf City Beach Directions and Parking

Newport Beach Introduction Page

Laguna Beach Introduction Page

Grunion!



Come back soon! We'll be adding more camping information.


---
Photos courtesy Huntington Beaches Conference and Visitors Bureau.


---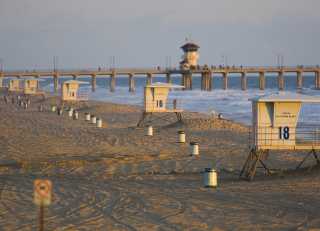 Return from the Huntington beaches page to the home page.