Ventura Beaches: Uncrowded Sand, Great Hotels, Beach Rentals, and Boutiques
Ventura beaches: This surf town has kept under the tourist radar screen, but it's no secret to locals. They especially value Ventura's state beach beach within walking distance of downtown, and its string of beach camping and RV sites, as you can see in our movie of Faria Beach just north of town:








Ventura's narrow downtown is dotted with hotels, bed & breakfasts and beach rentals.


They're all within walking distance of great dining uncrowded Ventura beaches, Surfer's Point, a cozy harbor and the much-photographed Ventura Pier.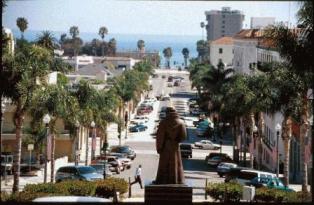 At the beaches, children frolic - while mom and dad sack out in the sun: Clearly this is not a vacation choice for excitement-seekers.


Or is it? Artists, theater groups and city-sponsored concerts provide a surprising array of entertainment options for a town Ventura's size. Why? Ventura is an easy drive from L.A. and home to many actors-by-day, Ventura-County-Suburbanites-by-night.


And most arts venues concentrate downtown, within walking distance or a short drive from most beach hotels.


Boat tours take sightseers whale watching, fishing, or to Channel Islands National Park, just 14 miles off the coast.


For landlubbers, the City Hall Web site provides download-able maps for self-guided walking tours.


GETTING TO VENTURA


The city is about one hour north of Los Angeles, a half-hour south of Santa Barbara, on Highway 101. You'll find Ventura city beaches easy to reach via the Seaward Avenue and California Street exits.


Be sure and also visit
Ventura Harbor and Channel Islands National Park.


North and South of Ventura: Hobson Beach, Faria Beach, McGrath State Beach, Rincon Parkway, Emma Wood State Beach



South of Ventura, McGrath State Beach, where the Santa Clara River meets the ocean, is known as one of the best spots to watch migratory birds in Southern California.


The two-mile beach is popular with surfers and campers, but swimmers are advised to use caution due to strong riptides.


North of the city, along Highway 101, the county of Ventura runs a string of camping-focused beaches, starting with Rincon RV Parkway, which offers 127 primitive RV camping spaces along Old Rincon Highway, the freeway's frontage road.


Also along this stretch, Emma Wood State Beach offers beach camping. Family tent camp sites are available at the mouth of the Ventura River estuary, and primitive, vehicle-only camping two miles farther north.


Farther north, the Ventura county-run Faria Beach is available for tent camping and 15 RV hook ups. The campground has a playground and horseshoe pits, barbeques and shower facilities.


The county also runs the smaller Hobson Beach, north of Faria. Hobson also has tent camping and 10 RV hook-ups, a seasonal concession stand and a great reef for tide-pooling.


Beach Camping in Ventura


Camping is available at McGrath, Emma Wood, Faria and Hobson beaches, as well as at the Rincon RV Parkway.


Ventura Beach RV Resort, just off U.S. Highway 101 at the Ventura River, offers tent and RV camping along with a pool, general store, extensive recreational facilities and Wi-Fi access.
v
Want to Find a Local RV Group to Camp With near Ventura?


Check out the
Camarillo Camp Rats! They're based in Camarillo, California, just down Highway 101 from Ventura, and they post their camping schedule on their Web site!



Come Back Soon to our Ventura Beaches page: We'll be adding Dining and Accommodations News.


We recently had dinner at The SideCar Restaurant in Ventura's Midtown area (yes, it really IS an old railroad car) and enjoyed Gourmet Burger and Martini Night. I had a burger with black truffle cheese, along with a "Flirtini" with raspberry vodka. Fun!




Don't miss these related pages...


Beaches Near Downtown
Faria Beach
Hobson Beach
Rincon Parkway RV Camping
McGrath State Beach
Emma Wood State Beach
Emma Wood State Beach Group Camp
Harbor, Harbor Village and Harbor Area Beaches
Restaurants Near Downtown and Beaches
Hotels Near Downtown and Beaches
Santa Barbara Introduction Page




---
Photos Courtesy of Ventura Convention and Visitors Bureau.

---
Return from Ventura Beaches to the home page.