Catalina Island: Picture-Perfect Only 22 Miles off the Coast of Los Angeles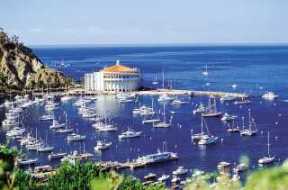 Beautiful Santa Catalina Island on your itinerary? Bring sturdy boots.


The place is steep. A tectonic accident squeezed this flame-shaped spine up from under the mainland eons ago, giving it dramatic drops both above and beneath the sea.


Hikers find sweeping vistas, swimmers enjoy intimate coves and scuba divers and snorkelers get a lush, sheltered playground.


AVALON


Catalina's hub, tiny Avalon (population 3,100), has an array of hotels and restaurants mostly designed in the island's unique style. That's because Avalon got a "makeover" in the 1930s, when L.A. designers concocted cheery pastels to set it apart from mainland beach towns.


What's more, cars are impractical here, so residents and tourists drive around in golf carts, some customized with grill plates and sporty paint jobs.




And the rest of the island? Mostly private. Owned by the island's conservancy and roamed by buffalos. Visitors need permits (free) to hike its interior.


Catalina is "do-able" in a day, via a round-trip ferry ride from the mainland. But the island has plenty to merit a longer stay.


Everything in mile-square Avalon is within walking distance (yes, there are those hills), although golf carts, taxis and a trolley are also available.


Shoppers will find plenty in the shops along the beachfront Crescent Avenue, lined with fountains and planters decorated with the now-defunct Catalina Tile Company's distinctive ceramics.


The 407-foot-long Green Pleasure Pier serves as docking point for many of the island's boat excursions and rentals, including glass-bottom boat tours and semi-submersible boat tours.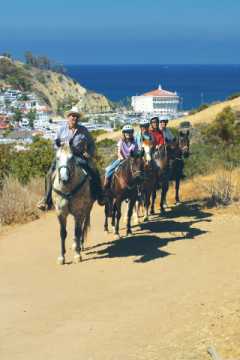 The pier offers eateries and places to people-watch, and it's home to Catalina's Chamber of Commerce and Visitor's Bureau, where tourists can pick up information on island hotels, activities and dining.



GETTING TO CATALINA ISLAND



Catalina is 22 miles from the mainland, accessible by ferry, plane and helicopter from Long Beach, San Pedro, Marina Del Rey, Newport Beach and Dana Point.



Come back soon. We'll be adding more dining, activities and accommodation news.




Don't miss these related pages...

Catalina Beaches

Catalina Activitites

Avalon Hotels

Avalon Restaurants

Long Beach Introduction Page

Newport Beach Introduction Page




---
Photos courtesy of Catalina Island Chamber of Commerce and Visitors Bureau.
---
Return from the Catalina Island page
to the West-Coast-Beach-Vacations.com home page.