Oceanside California: Wide Beaches,
the Longest Pier on the West Coast


Oceanside California beaches might just be the place to get away from all the other vacationers who are "getting away from it all."


That's because this laid-back town in northern San Diego County (call it "North County") has more than three miles of surprisingly wide beaches, perfect for swimming, body boarding and – as any surfer will tell you – some of the best surf breaks on the Southern California coast.


And while it's hardly a secret, it's also not the tourist magnet of its higher-profile neighbors to the north and south. That and its almost flawless weather year-round (average 69 degrees) make it a travel bargain for the perfect west coast beach vacation.



EAT, STAY



Check out the city's expanding accomodations, soon to expand, with time-shares and resorts under construction. Link to our list of
Oceanside restaurants for fun places to eat near the beach. We especially like the 101 Cafe.


Closer to San Diego (35 miles away) than Los Angeles, Oceanside California is still an easy drive to all big Southern California tourist attractions, but also sports plenty to do right in town. Visit the Municipal Pier, at almost 1,940 feet it's the longest pier on the West Coast.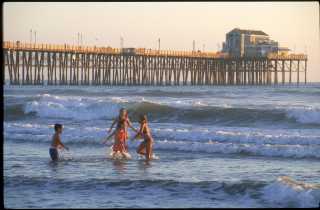 Like all piers in California, fishing from Oceanside's does not require a license, and if you don't catch anything, find solace in a Dooby Double cheeseburger at Ruby's Diner right on the pier.


The city's small craft harbor has its own beach and guest boat slips as well as jet skiing, Scuba diving, and boat rentals for whale watching and ocean fishing.


We especially like Captain Joe of Sea Star Charters. If you're thinking about ocean sportfishing in Southern California, he's an expert! So be sure to read our interview with Captain Joe Cacciola here.


You can also visit our directory page of Southern California Sportfishing Landings.



STUFF TO DO IN OCEANSIDE



When you're not at the beach, the California Surf Museum is here, as is Mission San Luis Rey of the California Mission chain.


At the southern end of town visit the Buena Vista Audubon Society's Nature Center named after Buena Vista Lagoon, the only freshwater lagoon in California.


And for an excursion slightly off the spiritual beaten track, tour the 1911 Mount Ecclesia, international headquarters of the Rosicrucian Fellowship, with its colonnaded white "healing" temple.


Visitors might not know that Oceanside is the third largest city in San Diego County, with a population of 173,000. A drive just north of the city reveals why.



SEND IN THE MARINES



Marine Corps Base Camp Pendleton, home of the 1st Marine Division borders the city, spreading across 125,000 acres used in a variety of military training programs. More than 38,000 military personnel and their families live on base, swelling to an average daytime base population of 60,000.


And don't forget that just north of the base lies two of California's most popular state beaches, in San Clemente.


Tom Cruise Top Gun House


And for fans of the movie "Top Gun," yes, the base was the movies' setting. Photo Opportunity: The home of Tom Cruise's character is still in downtown Oceanside, south of the pier at 102 Pacific Avenue.


Planning to stay in Oceanside California? Restaurants include the Longboarder Café and Joe's Crab Shack.


For hotels, try our favorite, the down-home Oceanside Marina Suites right in the harbor. We'll be adding a page about this soon.


Visit during late August for the World Bodysurfing Championship, or come in September and sink-or-swim in the Bathtub Derby, part of Oceanside Harbor Days.



GETTING TO OCEANSIDE



Oceanside California is about 35 miles north of San Diego, along the Interstate 5 Freeway. Accessible by air via San Diego International Airport, or by train via Amtrak.


CAMPING IN OCEANSIDE (and inland, too!)



RV Camping is available at Oceanside Harbor. Or if you want to head inland, to Hemet, a quiet, spacious RV spot central to Lake Elsinore, Lake Hemet and Diamond Valley Lake, check out
Casa Del Sol RV Resort and Community and send us your pictures from your stay!



Come back soon to our Oceanside California page: We'll be adding more dining, activities and accommodation news.




Don't miss these related pages...


Oceanside Beaches

North County Restaurants

Historic 101 Cafe

North County Hotels

Oceanside Marina Suites

Captain Joe!

Ocean Sportfishing Directory

Carlsbad Introduction Page




---
Photos courtesy of California Welcome Center Oceanside.
---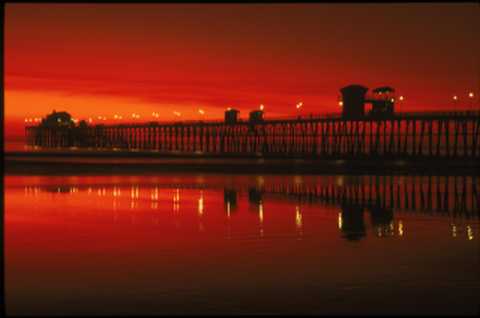 Return from the Oceanside California page
to the West Coast Beach Vacations home page.