San Clemente: Home of Two of the Most Popular State Beaches in California
San Clemente beaches to some of us who might be...erm...of a certain age, evoke memories of Richard Nixon and tales of Secret Service cameras scanning the beach outside Nixon's Western White House...


Life and politics have moved on in this laid-back town. Today this is one of the few Orange County communities where chain stores don't dominate and families return to their favorite beaches year after year.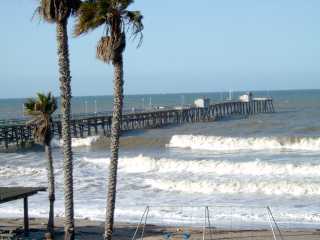 You'll find two of the most popular public parks in the state here: San Clemente State Beach and San Onofre State Beach.


Beaches just south of town at San Onofre (or "San-O" as locals call it) gets crowded on weekends.


Surfers line up for their chance on what some consider to be the best longboarding breaks on the California coast.



NAMED AFTER AN ISLAND THE PUBLIC NEVER SEES



The town gets its name from the island of the same name, a U.S. Naval reserve southwest of Catalina Island. The city fills 15 square miles just north of the San Diego County Line. Houses and shops climb the foothills, like spectators in an amphitheater on hand to view the sparkling ocean.


It's bright and sunny here 342 days of the year, and beaches face south, so surfing breaks are gentle. That's especially so during storms, due to the sheltering effect of Catalina Island.



CHANNELING BLUE HAWAII



Generations ago, a far-sighted city landscaper planted palms on the beach. Today the palms' tasseled crowns lend a sub-tropical ambience.



BOUTIQUE CRAWL



For shoppers, Avenida Del Mar is a eclectic paradise, thanks to a downtown redevelopment project begun a few years back that has also drawn new restaurants.








EAT, STAY



Try Beachfire for its caramelized halibut (and check out the bar made from driftwood!) or, if you're near the city's pier, choose one of the 17 crepes on the menu at French bistro La Galette Crepêrie.


Accommodations here range from bed-and-breakfasts like Garden Cottage at the Green to familiar names like Holiday Inn.


The town has its share of beach celebrations. Come the third weekend in July to catch the city's Ocean Festival held at the pier and featuring lifeguard, fishing and sand castle competitions, concerts, food and a rubber duck race.






GETTING THERE



The town is halfway between Los Angeles and San Diego (OK, maybe slightly closer to San Diego) and is easily accessible via Interstate 5, which runs straight through the town. John Wayne International Airport is about 30 minutes away.



CAMPING



San Clem State Beach offers camping and RV facilities above the bluffs, San Onofre State Beach has camping and RV sites at San Mateo Creek and south of the power plant.




Come back soon: we'll be adding more dining, activities and accommodations news.




Don't miss these related articles...


San Clemente Beaches

San Clemente Hotels

Dana Point Introduction Page

Oceanside Introduction Page




---
Photos Courtesy of City of San Clemente.

---