Santa Monica Beach: Wide Sand, Third Street Promenade and the Santa Monica Pier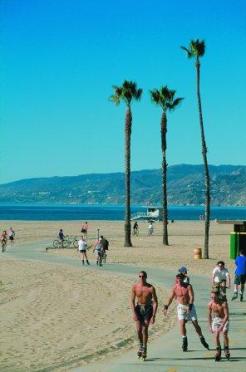 Santa Monica Beach packs a lot of vacation into three short miles: Santa Monica Pier, Muscle Beach, the world's only solar-powered Ferris Wheel, International Chess Park, Heal the Bay's Aquarium and - so the city says - the widest stretch of urban sand on the Pacific coast.


And that's just on the beach.


Step up above the palm-lined palisades and what a city unfolds: More than 3,500 hotel rooms, 400 restaurants and 90 museums and art galleries within eight square miles.


For shoppers, four distinct shopping areas await: Pico Boulevard, known for its destination restaurants, quirky Montana Avenue, beach-centric Main Street and the city's top attraction, Third Street Promenade , which draws 30,000 visitors a weekend.


For diners, forget Beverly Hills: The 2007 Zagat Los Angeles/Southern California Guide voted Santa Monica "Best Place to Dine in Southern California" and ranked Melisse, Josie and The Hump the top three Santa Monica restaurants.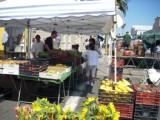 Chefs from destination restaurants in the area buy their produce from Santa Monica's well-known Farmers' Markets which pull some of the finest produce from specialty growers around Southern California.


That's the stall for McGrath Farms from Oxnard in the photo here. Our visit was in September, they had the most beautiful squash!


THERE'S BEACHES HERE, TOO


And the beaches: The city's portion is technically only three miles. But Santa Monica beaches arguably extend 22 miles around Santa Monica Bay via an oceanfront bike/walking/jogging path, the South Bay Bicycle Trail.


Palisades Park, a leafy, palm-lined 26-acre greenbelt on the cliffs above the beach, frames the beach with another tier of jogging paths and striking beach views.




Photo Opportunity: Check out the sunset from Palisades Park. If it looks like a something from a movie, it probably is. Film crews shoot on location here frequently.


Will Rogers State Beach is just up the road and a fifteen minute drive takes you to the Santa Monica Mountains National Recreation Area for hiking, horseback riding, picnics and even waterfalls.


A CITY OF ART GALLERIES


And art: Santa Monica really does boast 90 museums and art galleries -- that's 10 per square mile.

Download a map of the city's public art, or visit Bergamot Station, a five-acre complex that anchors the Santa Monica art scene.


Beyond that, choose your taste and price range. Timothy Yarger Galleries has represented works by Chagall, Picasso and Matisse. Every Picture Tells a Story features originals and limited edition art by children's book illustrators, including Maurice Sendak.


The Santa Monica Historical Society Museum of History and Culture displays vintage clothing and photos from its extensive archive.




GETTING TO SANTA MONICA


The city is eight miles north of Los Angeles International Airport. Bordered by Malibu to the north and Venice Beach to the south. U.S. Interstate 10 meets the ocean at U.S. Highway 1 in Santa Monica for easy freeway access.


History buffs: Santa Monica Boulevard, just a few blocks up from Interstate 10, is the Pacific terminus of historic Route 66.




Come back soon to our Santa Monica Beach page: we'll be adding more dining, activities and accommodations news.




Don't miss these related stories...



Santa Monica Beaches Page

Hotels near Third Street Promenade

Nearby Restaurants

Beach Parking and Directions

Malibu Introduction Page

A Room-Sized Camera




---
Beach and pier photos courtesy of Santa Monica Convention and Visitors Bureau. Farmers' Market and Camera Obscura photos, copyright 2007 West-Coast-Beach-Vacations.com.

---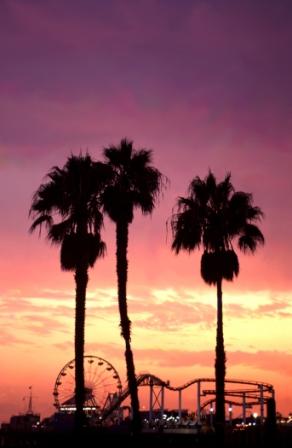 Return from the Santa Monica Beach page to the West-Coast-Beach-Vacations home page.