Dana Point: Discover this Surprising,
Fun, Hidden Bargain of the South Coast
Dana Point, California, where U.S. Interstate 5 pours down to the coast, is a quiet, decidedly non-commercial little beach town with a surprising secret: it has almost as many most hotel rooms of some of the largest cities in Orange County.


Almost 2,000 hotel rooms. That's close to the numbers of its busier, bling-ier neighbors Newport Beach and Laguna Beach, without the traffic and crowds.


It's also home to a range of accommodations, from the upscale St. Regis Resort, Monarch Beach, and Ritz Carlton, to more modest offerings like the intimate Blue Lantern Inn.


---
---


And whatever Newport Beach and Laguna Beach are within easy driving distance of, Dana Point is, too. Disneyland? Hop on the 5 and head north.


Newport Harbor? Just a few minutes up U.S. Highway 1. San Diego? Head south on the 5 for about an hour to visit the San Diego Zoo and Sea World.


And while you're there, the city has its own beautiful beaches. Doheny State Beach is one of the most visited California state beaches; Salt Creek Beach Park -- or Strands Beach as locals call it -- is popular with surfers; and Capistrano Beach, two miles south, offers volleyball, lighted basketball courts, fishing, concrete fire rings.


Dana Point Harbor


tucked under the promontory, has its own kiddie beach, room for 2,500 yachts, windsurfing, jet skiing, a fishing pier and 17 restaurants in its Mariner's Village and Wharf.


---
Click for Dana Point Restaurants

---


The west end of the harbor is home to the Orange County Marine Institute which offers sea-centric programs for youths, families and adults, and cruises and presentations aboard the brigantine tall ship, "Pilgrim," a replica of the original Pilgrim that the city's namesake, Richard Henry Dana, sailed on in the 1830s.


The base of the town's rocky promontory cradles the Dana Point Marine Life Refuge containing some of the best rocky intertidal pool habitats in the area. Tide pools here are home to sea anemones, star fish and octopus.


The town itself has a classic California beach town-feel, with beach-themed boutiques and streets named after the types of lanterns once used by sailors.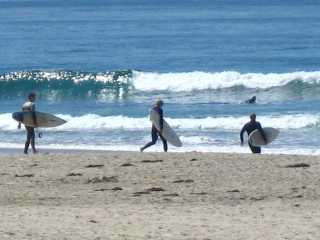 That's fitting, since the community has been a favorite haunt of surfers for decades. So much so that several leading surfing publications got their start here and some, including Surfer magazine are still headquartered here.


The town was also once home to the notorious "Killer Dana" surf break at the foot of the promontory. Surfers loved this break because the waves came out of deep water to break perfectly -- but dangerously close to the spiny rocks along the beach.


Sadly, the break is no more, destroyed when construction on the harbor began in 1966. Today the harbor's breakwater slices the old break spot, and surfers now look elsewhere for their "killer" waves.


But surfers aren't the only ones to love this area. In the early 1800s, Richard Henry Dana, in his book, Two Years before the Mast, referred to the spot as, "The only romantic cove in California."


Yeah, well, that was then. Today California is a romantic's delight, but if you're looking to find a taste of what he saw here, be sure to check out Lantern Bay Park and the Overview Gazebo at the end of Blue Lantern Street, perched above the harbor. [Editor's note: I used to eat my lunch at this gazebo years ago when I worked in the area -- beautiful!]


Visit in February/March and take in the three-week Festival of the Whales.


Fourth of July festivities include fireworks set off from an offshore barge. In September, Dana Point resembles a nineteenth-century seaport when it hosts the Toshiba Tall Ships Festival and the city celebrates the Holidays with its annual Christmas Boat Parade.


GETTING TO DANA POINT


The city is in southern Orange County, where U.S. Highway 5 meets U.S. Highway 1. It is about 60 miles south of Los Angeles and about the same distance from San Diego.


DOHENY STATE BEACH, SALT CREEK BEACH PARK AND CAPISTRANO BEACH


Sixty-two acre Doheny State Beach, where San Juan Creek meets the Pacific Ocean, not only offers a very popular mile-long stretch of sand, but visitors also enjoy its five-acre lawn, private picnic rental areas and some of the warmest water for swimmers and surfers in the area.


At low tide, catch the tide pools and be sure to spend time at the beach's Visitors Center, with aquariums, an indoor tide pool display, gift shop and a photo history of the beach's surfing glory days.


Doheny State Beach allows overnight camping at 120 campsites. It also features 170 picnic tales and almost 100 barbeque grills.


Doheny State Beach is one of 85 state parks in California offering free AT&T wireless Internet access, or Wi-Fi.

To see a full list of California State Parks with free AT&T Wi-Fi, click here.



Salt Creek Park, also known as Strands Beach, is just north of the harbor, and can be reached from Ritz Carlton Drive, just off Highway 1.


This long sweep of beach ending at the promontory of Dana Point is a surfers' hangout and has picnic areas and bluff-top overlooks, perfect for watching whale migration routes. The beach isn't open to camping, but it does offer picnic tables and grills.


Two miles south of Doheny State Beach, visit the white sand and palm trees of Capistrano Beach the ocean frontage for the Dana Point neighborhood of the beach's namesake, although folks here tend to call it "Capo Beach". The area is another long, wide swimming and surfing haven, daytime use only.


CAMPING IN DANA POINT


Doheny State Beach is the only facility in Dana Point offering overnight camping.


Come back soon to our Dana Point page: We'll be adding more dining, activities and accommodation news.



---
Photos courtesy of Lynn Kelly


---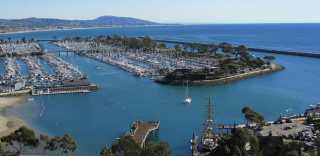 Return to the West-Coast-Beach-Vacations.com home page.