San Diego Beach Shoreline: Endless Sand, Sea World, San Diego Zoo
San Diego beach:, the perpetually 85-degree weather and a certain orca named Shamu. Just a few of the reasons that this city is the number one tourist destination in Southern California and one of the top tourist destinations in the United States.


Oh, there's also the pandas at the zoo, the big cats at the zoo's Wild Animal Park, the Bay, Hotel Del Coronado, downtown and the Gaslamp Quarter, Point Loma, the Birch Aquarium at Scripps in La Jolla.



ACCOLADES



Beaches here pack something for everyone's idea of the perfect vacation. Some recent recognitions: Conde Nast Traveler included five area properties on its May 2007 "Hot List" of "333 of the newest, hottest and sexiest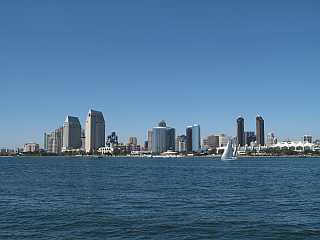 ACCOLADES


The beaches here pack something for everyone's idea of the perfect vacation. Some recent recognitions: Conde Nast Traveler included five local properties on its May 2007 "Hot List" of "333 of the newest, hottest and sexiest hotels,


Prevention magazine voted it "7th Best Fitness-Walking City" in its April 2007 issue. Men's Journal voted the city one of its "50 Best Places to Live" in its April 2007 issue.


The Mobil Travel Guide listed three area spas in its "2007 List of Top Spas," and The Advocate national gay and lesbian publication named the city one of its "10 Best Places for Gays and Lesbians to Live."


For golfers, the city has the highest annual number of golf playable days in the United States, according to WeatherBill.


And those are just accolades for this year.



And 33 PUBLIC BEACHES



It's easy to forget that this city offers not only more than 30 miles of coast, not counting its harbors and bays, and beaches of surprising variety.


Choose your favorite: the intimate beaches of La Jolla's scalloped coves to Mission Bay's endless waterfront for swimming, fishing, sailing, diving and surfing.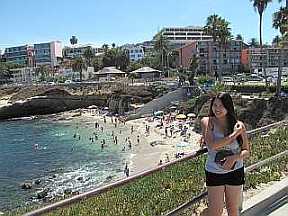 That's my friend Hazel at La Jolla Cove. You can find out more about her visit on my Hazel and Jayson in La Jolla page.


To the south there's Coronado Island, Silver Strand and Imperial Beach. where options range from elegant Victorian hotels, Navy SEAL practice (stay WAY back!) and endless, empty miles of sand.



WHAT TO SEE BEFORE YOU HIT THE BEACH



For families, the big tourist attractions await. The San Diego Zoo has, of course, its family of Giant Pandas (the largest population of these gentle creatures in the United States); the recently opened Joan B. Kroc's Monkey Trails and Forest Tale -- the biggest and most elaborate animal habitat in the zoo's history -- plus apes, hippos, gorillas, tigers, polar bears, and a petting zoo and baby animal nursery.


The zoo's Wild Animal Park, about 30 miles northeast of the city, preserves 1,800 acres for African and Asian wild animals to roam free as they would in the wild.


Sea World, in Mission Bay, not only is home to Shamu, but to penguins, sharks, manatees and dolphins.


Balboa Park, a 1,200-acre, almost subtropical version of the Smithsonian Institution, evokes an architect's fantasy of a Spanish Colonial wedding cake. Designed for the 1915 World's Fair, the Panama California Exposition, it houses 15 museums -- including the Air & Space Museum -- eight gardens and the San Diego Zoo.


That's Hazel at Balboa Park.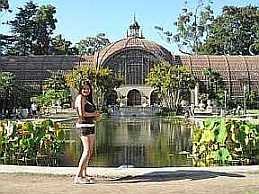 Mission Bay is also adjacent to Belmont Park amusement park, with its vintage "Giant Dipper" roller coaster, and "The Plunge," a giant, seemingly endless, indoor swimming pool.



DOWNTOWN



The National League Padres baseball team's new home, retro-style stadium PETCO Park has become the cornerstone of the downtown's revival.


Once-derelict old buildings have blossomed into live-work areas, elegant, curved high-rise hotels now grace the marina and the Gaslamp Quarter has become the hip new hub of nightlife, with more than 100 restaurants, 40 nightclubs and pubs, entertainment, boutiques and people-watching.



Hazel and Jayson stayed in the Gaslamp District, they got a great weekend deal at the Ramada Inn St. James Hotel. Here they are on the rooftop at night: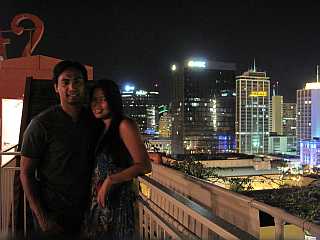 THE BAY



At San Diego harbor, with its strong U.S. Navy presence, visitors can board the USS Midway, now a museum, watch the boats -- military or otherwise -- or simply stroll through the shops at Seaport Village.



Here's Hazel with the U.S.S. Midway Museum in the background: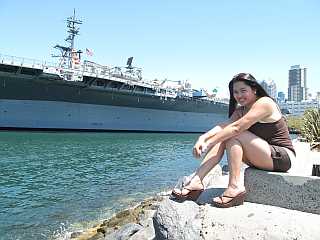 MAKE IT AN INTERNATIONAL VACATION



If you are downtown, remember that Tijuana, Mexico is only 17 miles away from the beach, and San Diego's Trolley provides a convenient way to turn a vacation into a two-nation experience.


NOTE: If you plan to go south of the border, be sure to bring two forms of identification, including a valid passport.


Dining opportunities near beaches here are as varied as the tourist attractions. Point Loma Seafoods is a casual, family-owned dinning experience with picnic tables outdoors so patrons can watch local fishermen hauling in their catch.


Jayson and Hazel tried the Marble Room - Great tapas!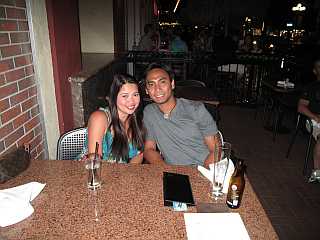 Old Town Mexican Café captures the ambience and flavor of the region when it was part of Mexico, and in the Gaslamp Quarter, Rama offers fine Thai cuisine prepared by a chef trained at the Royal Culinary Institute in Thailand.


Nearby hotels start with the Grande Dame of the city's hotels, the Hotel Del Coronado.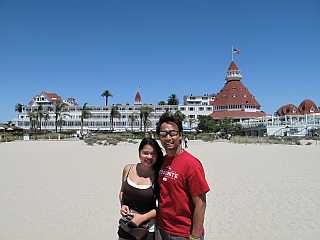 Photo Opportunity: even if you don't book a stay there, a photo of "The Del" with its iconic red roofs captures the classic image of a bygone era.


For hotels in town, the newly opened 35-room Keating Hotel, in the 1980s Keating Building, has the latest buzz, its rooms created by Italian design firm Pininfarina, that's also the design engine behind Ferrari and Maserati.


For family budgets, Comfort Inn is an old favorite that's an easy distance from Sea World in Mission Bay. Downtown, Little Italy Inn Bed & Breakfast has transformed a 1910 building into old-world comfort, walking distance from the Marina. And on the marina's waterfront, it's impossible to miss the two towers of the Manchester Grand Hyatt.



For more information, check out our other pages, at the links at the bottom, and come back often, since we're always adding information. We also like the local information at San-Diego-Beaches.com.


Getting Here



San Diego is 120 miles south of Los Angeles on Interstate 5 and 17 miles from Tijuana, Mexico. It is accessible by air via San Diego International Airport, or by rail via Amtrak.




Don't miss these related pages...

A visit to the Gaslamp District and Balboa Park
Harbor and Coronado Island
Jayson and Hazel in La Jolla
Nearby hotels
La Jolla Beaches
La Jolla hotels
Coronado Island
Coronado Island Hotels
Mission Bay
Del Mar Introduction Page



Come back soon: we'll be adding San Diego dining and accommodations news.




---
Photos courtesy of Jayson
---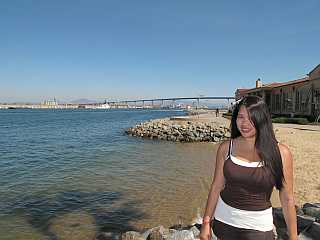 Return to the West Coast Beach Vacations home page