San Diego Beaches North: La Jolla, Torrey Pines, Intimate Coves




La Jolla San Diego means "the jewel" in Spanish, and this elegant town lives up to its name. It's one of the toniest ZIP codes on the West Coast, and named by the Robb Report as "The best place to live in America."





That's my friend Hazel at the cove. Wouldn't it be great to live here?
















It's great place vacations, too. and it's also home to the Scripps Institute of Oceanography and Birch Aquarium, and La Jolla Shores Beach has been named by The Travel Channel as one of the most family-friendly beaches in San Diego County.




Torrey Pines Beaches




We'll start our tour with Torrey Pines City Beach, which is actually also Torrey Pines State Beach. Yeah, I know a technicality, but good to know in case you are looking for it on a map.



Referred to locally as "Blacks," it's below the bluffs of Torrey Pines State Reserve. Cliffs loom 300 feet above this beach and a some visitors gain access via a gated road owned by local residents and the nearby University of California, San Diego.




A Gliderport!



A few lucky beach-goers possess keys to the gate. Everyone else enters down a dirt trail that starts at the Torrey Pines Gliderport, local take-off point for hang gliders, para gliders sailplanes and other motorless aircraft.



That's not to say the average beach-goer would enjoy Blacks. Dangerous surf usually breaks close to the cliffs, which frequently decant boulders into the water.



Surfers prefer the south end for its huge winter swells. but other than that, Blacks' privacy and difficult access make it infamous as a nude beach -- a practice not exactly legal, but, erm, largely overlooked.




La Jolla Shores




Visitors will find better choice just to the south, at the family-friendly La Jolla Shores Beach, known at its northern end as Scripps, for the oceanographic institute and its pier (not open to the public). The north end is popular with body boarders and intermediate surfers, and the entire beach is popular as a family swimming area.




Here's more of Hazel's photos of La Jolla, taken by Jayson at the cove: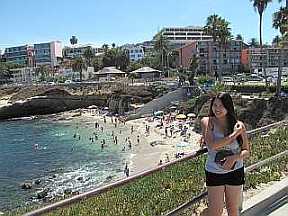 And on the overlook at the cove: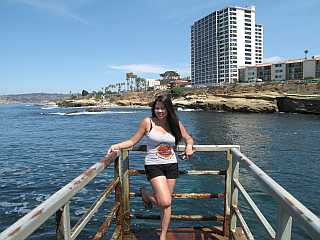 Hazel and Jayson ate lunch at a great restaurant in here called Kitima. And while there's plenty of great La Jolla hotles, they found a great hotel in San Diego's Gaslamp District.



Boaters will find public launch access at Avenida de la Playa, and evenings this beach comes alive with bonfires as families cook s'mores and huddle on beach blankets.



Bay, Cove and...Sea Caves!



Below Shores, Point La Jolla shields La Jolla Bay and La Jolla Cove from the wind, creating waters with visibility that can reach 30 feet.



This area is set aside as the San Diego-La Jolla Underwater Park and Ecological Preserve, popular teaching waters for scuba diving students, who can watch brilliantly colored marine life in the protected waters.



Above water, surfers and body boarders and are prohibited here, but snorkelers are welcome and onshore families and painters love the rocky shallows of the cove, tucked beneath its sandstone cliffs.



Below the cove the shore turns to cliffs and seals claim the rocks offshore. The ocean has been busy here: grottoes and sea caves, the habitat of kayakers, lace the cliffs, while land-lubbers can visit one sea cave from solid ground via a tunnel with 144 steps down to Sunny Jim's Cave.



The tunnel was carved in 1902; its entrance is inside the Cave Store on Cave Street (of course).




Boomers Beach, Children's Pool and Hospitals Beach




Below the cove, Boomers is a wave area reserved for body surfers, and Shell Beach, with Seal Rock. At low tide seals claim the rock and its surrounding tide pools. At high tide they claim the beach, especially the small area known as Children's Pool. A seawall built here was originally intended to create a protected swimming area for children.



Today sand has filled in much of the beach inside the wall and at last word the seals have been given final domain.



Directly south, two small beaches, Casa Beach and Wipeout provide sunbathing spots, tide pooling and beach caves, but the water can be treacherous. Another few steps south you'll find Hospitals, more reef and tide pools than beach, and a haven for scuba divers, with its undersea version of the cliff caves, sea arches and shellfish.



Marine Street Beach, Windandsea




Beyond Hospitals lies Marine Street Beach, an elegant, wide stretch of white sand contrasting in a perfect palette against the azure waters. The surf breaks onshore here, and locals refer to it as "Womp." It's a body boarders' beach, but surfers sometimes ride the reef breaks at either end of the beach.



South of Marine is Windansea Beach, also beautiful, with hard-breaking shore breaks thanks to underwater reefs, that make this a surfing spot for experienced boarders only. Rocky outcrops punctuate the beach here, dividing it into small private beaches, which makes it popular with sunbathers and small groups.



Swimming is best left to the southern half of the beach, look for the Polynesian-style thatched surf hut, and the nearby lifeguard stand. The hut has stood here since 1947, erected by an earlier generation of surfers. It's now registered as a San Diego Historic Site, and its slight elevation makes it a good, shaded vantage point for watching the wave action below.



Beyond here the La Jolla shore turns into mean cliffs best left to tide poolers -- and even they should only venture out on the lowest tides.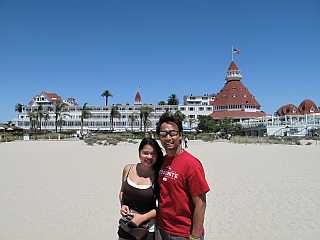 Staying Nearby?




The Hotel Del Coronado is just a ferry ride away from downtown San Diego. Going north, Del Mar is just north of La Jolla. Be sure to visit our page of Del Mar hotels.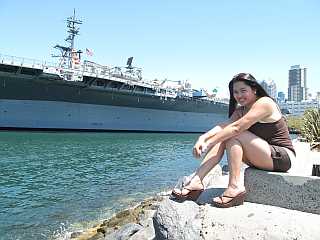 Don't miss these related pages...

Jayson and Hazel's lunch in La Jolla
Staying in the Gaslamp District
San Diego Harbor, Coronado Ferry and the Del
La Jolla San Diego hotels
San Diego main page
San Diego hotels
Coronado Island
Coronado Island hotels
Mission Bay



Come back soon: we'll be adding San Diego dining and accommodations news.




---
Photos courtesy of Jayson
---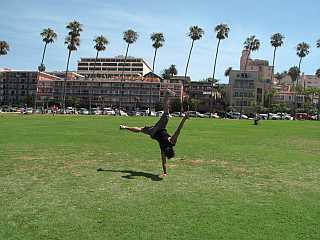 Return to the West Coast Beach Vacations home page.