Coronado Island: Voted "Best Family Beach in America" by the Travel Channel
Coronado Island, across the bay from San Diego. Several years running, the Travel Channel had ranked Coronado Beach on Coronado Island "Best Family Beach in North America."


Why?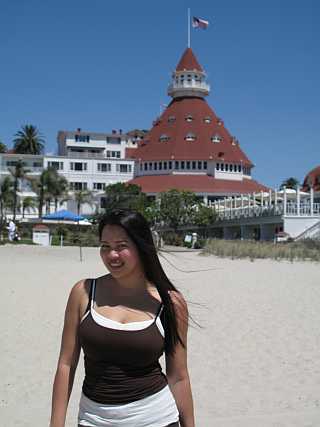 The Del!



That's my friend Hazel in the foreground, but behind her, the island's mile-long wide, impeccably maintained sandy beach is bordered by a wide boardwalk and flanked by the beautiful Hotel Del Coronado.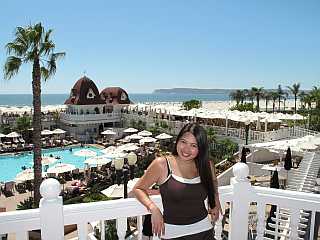 You don't even have to be staying at the Del to go inside. This is Hazel up on the balcony, under the main red roof.



There's plenty of other Coronado accomodations and hotels, too. And yachts dot the water, kites fill the air, sand castle builders create their kingdoms. It is indeed a postcard-perfect setting for a day at the beach.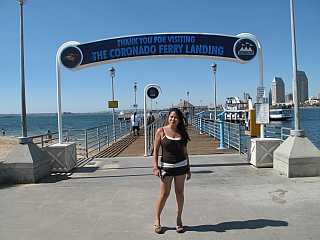 And it's just a short (and free!) ferry ride over from San Diego Harbor!



You'll find plenty to do on the island besides enjoy the beach. Choose family casual or upscale dining, a skateboard park, numerous grassy parks, and turn-of-the-century mansions fringing the ocean.


The beach, run by the city of Coronado, is unofficially divided into three sections: North Beach, from the Sunset Park area to the Naval Base; Central Beach, in front of the Hotel Del Coronado; and The Shores, south of "The Del" to Silver Strand State Beach.


North Beach faces south and in winter can get large swells that draw surfers. Dogs are welcome here, and fire rings are set into the dunes.


Central Beach is the most popular stretch of Coronado Island, especially with swimmers, because of its setting in front of The Del.


The Shores has gentler wave breaks that draw longboarders and body boarders. Restaurants and hotels abound, so it's easily possible to make an entire vacation here without ever leaving the island.


SILVER STRAND STATE BEACH


South of Coronado Island, a seven-mile isthmus resembling something between a wide sandbar and a barrier island buffers San Diego Bay from the open ocean and also provides beach lovers with Silver Strand State Beach.


Vast, empty and windswept, it's a world away from Coronado Island to its north and the delight of campers, RV-ers, and shell collectors. But wanderers beware: the Navy uses beaches to Silver Strand's immediate north and south for training exercises. That "seal" you see might actually be a SEAL.


Following the coast south, Imperial Beach hosts the annual U.S. Open Sandcastle Building Contest. It's a weekend-long party every July, drawing hundreds of thousands of spectators.


Imperial Beach's residential area is an incorporated city, and the beach itself here is a magnet for swimmers, surfers and body boarders during the summer.


A fishing pier and large sports park make the area attractive to locals and visitors who enjoy weekends of general outdoor activities.


Finally, at the Mexican border is the Tijuana Sloughs and Border Field State Park marsh areas, a National Wildlife refuge popular with birders. Park rangers conduct guided nature hikes, but beaches here are not for swimming.


Photo Opportunity: A large wall marking the border actually extends out into the ocean. It's hardly pretty, but still a one-of-a-kind vacation photo. Viewable from the end of Monument Road.


CAMPING IN SAN DIEGO


In addition to the campgrounds at Silver Strand, tent and RV camping are available at Campland on the Bay, on the north side of MIssion Bay, with its own beach, water sports rentals and pool.

Mission Bay RV Resort in De Anza Cove also on the north side of the bay, has 260 RV hook-ups and a boat launch.


Chula Vista RV Resort & Marina offers 237 RV hook-ups and its own 552-slip marina. Chula Vista is also home to a KOA campground, and the San Diego RV Resort is in La Mesa.


Come back soon to our San Diego page! We'll be adding more dining, activities and accommodation news.



Don't miss these related pages...

Day trip to the Del
Staying in the Gaslamp District
Day trip to La Jolla
Coronado Island hotels
San Diego main page
San Diego hotels
La Jolla
La Jolla hotels
Mission Bay



Come back soon: we'll be adding San Diego dining and accommodations news.




---
Photos courtesy of Jayson
---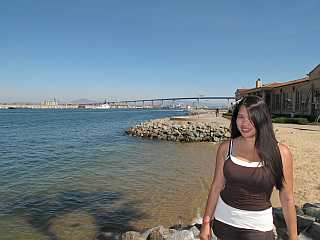 Return to the West Coast Beach Vacations home page