101 Cafe Oceanside, a 50's Diner with a Past


101 Cafe, Oceanside California.


Beaches, car culture, roadside cafes. You'll find plenty of that anywhere along California's U.S. Highway 101. But in Oceanside, one eatery, the 101 Cafe, stays in the spotlight.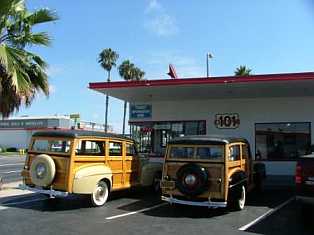 Classic car clubs and motorcycle clubs make sure to stop there. Tourists have their photos taken outside. BMW even used it for a scene in its motorcycle calendar a few years back.


Why? There's only one reason.


"I'm a shameless self-promoter," says co-owner John Daley.


That's it. But saying that John Daley promotes his 101 cafe is like saying Henry Ford tinkered with engines. Daley, 59, is a one-man cheering section for the café and its town, Oceanside, where he was born and raised.


He's active with civic groups and helps organize events that draw tourists. Even his café's Web site is a high-five to the town.


He's got good reason. To him, Oceanside ("Be sure to mention the café!") is all things California: coast, car culture and surfing. And the town still feels small, even though its population is inching toward 200,000.


It has yet to be discovered by tourist hordes, and its downtown is a celebration of eclectic mid-century modern style. Theatres', stores' and offices' architectural integrity is carefully preserved.



JUST AN ORDINARY DINER. NO, REALLY



The café itself is modest. It's a squat brick box painted white with red trim and an overhang that serves as a carport.


But surprising history sometimes comes in humble packages. The 101 cafe is arguably among the oldest along the entire length of the 101, now called "South Coast Highway" in its Oceanside stretch.



ONCE UPON A HIGHWAY



It began operation in 1928, as the 101 Cafe, shortly after the road was built as part of the federal highway system.


Back then, driving even just as close as a few towns away could be a major endeavor, and the government -- along with what is now the Automobile Club of Southern California -- encouraged entrepreneurs to establish roadside eateries.


A family named Ekegren heeded the call, and opened the diner with a modest 20-seat capacity.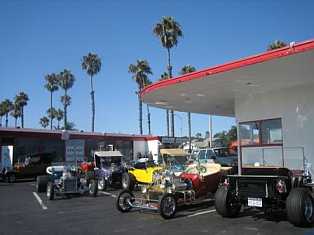 By the 1930's, Greyhound had placed a bus stop in front of the building, and by 1937 the owners saw value in expanding to 60 seats.


In the 1940's, the diner began curb service and by the 1950's it turned into a classic car-hop drive-in, so popular that its then-owners invested in a remodel, including the overhang.




By the 1970's, the cafe had turned into a coffee shop, and had gone through several name changes. By the late 1980's, when Daley bought it with a childhood friend, it was called "Randy's Coffee Shop."


When people started calling him "Randy," Daley said he did some research and changed the café's name back to its original, 101 Cafe.



NEW OLD NAME



New signage was almost the only external change. He also painted the place white with red trim, but other than that, the café remains as it was from the 1954 remodel. The menu is still classic 50's comfort fare.


But Daley brought his instincts as a history buff to the café. He dug up tales about the café, its connection to the highway and its place in the city's history.


In doing so, he helped preserve a nostalgic page of his community's past, and drew the attention of cruiser clubs and other beach and car culture enthusiasts to the café and to Oceanside.



HARLEYS AND MORE HARLEYS



Some Saturdays, scores of Harley Davidsons stand parked in the café's lot side-by-side, as their riders dine. And when woody or hot rod clubs come to Oceanside, the 101 cafe is a must-stop, as the many photos on Daley's Web site attest.


No wonder tourists always snap photos out front. All those classic cars plus a funky diner? Someone say "photo opportunity." In fact, what better stop on anyone's road trip, Daley says, than a meal break at a real 50's diner for a burger, soda and the café's special dessert, Joannie's Carrot Cake.


He doesn't even mind when people get the name backward, and call it "Café 101."


"We don't really correct anyone," Daley says. "We don't care what they call it as long as they show up."


You can find the 101 Cafe at 631 South Coast Highway in Oceanside. Telephone: (760) 722-5220.




Don't miss these related links...

Oceanside Introduction Page

Oceanside Beaches

Oceanside Restaurants

101 Cafe's Carrot Cake Recipe

Oceanside Hotels

Oceanside Marina Suites

Meet Ocean Sportfishing's Captain Joe!

Carlsbad Introduction Page





---
Photos Courtesy John Daley
---