Newport Beach Waterfront: Balboa Island, Crystal Cove, the Wedge
Exploring Newport Beach's waterfront? Start with Balboa Peninsula.


This ocean-side arm of Newport Harbor stretches for six sandy miles. Choose from Newport Pier or Balboa Pier to stroll or to take photos of surfers.


This stretch to the Santa Ana River jetty is actually Newport Municipal Beach, and has perfect waves for body boarders and surfers. An old-fashioned boardwalk runs the length of the peninsula.


WILD WAVES


Be sure to check out body surfing at The Wedge, flush against the jetty. Two types of waves converge here, and can reach two-stories high, slingshotting challengers to the shore.


Check out the peninsula's Balboa Fun Zone with its Ferris wheel, carousel and arcade near the Balboa Pavilion. It's adjacent to the Newport-Balboa Ferry boat, which takes visitors a short hop to Balboa Island.




Click here for hotels in Newport



Photo Opportunity: Balboa Pavilion, built in 1905 as part of celebrations of completion of Southern California's Pacific Electric Red Car Line. In its heyday the building hosted big-band and swing music, and drew leading musicians.


CORONA DEL MAR STATE BEACH, BIG CORONA BEACH


East of the harbor entrance, Corona Del Mar State Beach runs for a half-mile stretch below bluffs. It's popular with swimmers, snorkelers and body boarders.


Part of this beach is also known as Big Corona Beach, and the entire state-owned area is actually operated by the city, which has recently revamped the public facilities. Perfect for family outings, Corona features fire pits, picnic areas and showers.


CRYSTAL COVE


To the southeast, out of the urban hub-bub, Crystal Cove State Park preserves almost 3,000-acre woodland refuge for hikers and horseback riders, fronted by three miles of pristine beach. Primitive camping is available in the park's upper reaches.


On and below bluffs overlooking the beach, the nonprofit Crystal Cove Alliance's renovation project to revamp the famous Crystal Cove Cottages is underway, and 22 of the 46 cottages are available for overnight stays.


The ramshackle structures began sprouting in 1924, when free spirits made the most of cargo from a lumber ship that capsized just offshore.


The last cottage was built in the 1950s. The alliance is renovating and refurbishing each in the style and décor of its era.



Don't miss these related pages...

Newport Beach Introduction Page

Hotels near Balboa Island

Laguna Beach Introduction Page

Huntington Beach Introduction Page



Come back soon to our Newport Beach pages: We'll be adding more dining, activities and accommodations news.


---
Photos courtesy of Newport Beach Conference and Visitors Bureau
---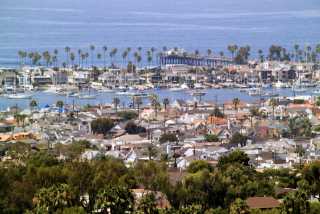 Return to the Newport Beach page
Return to the home page