Encinitas Beaches: Surfers, Swamis and Great Public Beaches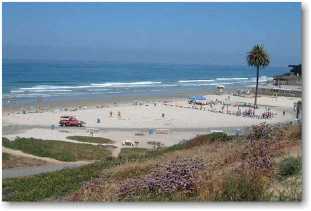 Starting with Encinitas beaches at the city's northern end, 11-acre Leucadia State Beach (operated by the city), draws swimmers, surfers, fishermen and picnickers.


Locals know the northern section as "Grandview" beach, and the southern part as "Beacon's" beach, and signs at both beaches bear their local names.


Beacon's is popular with surfers, and while its beach is narrow and peppered with cobblestones, locals still come here for swimming and surf fishing.


We found a great Web site that's all about Beacon's Beach, including a Web cam.


STONESTEPS, MOONLIGHT BEACH AND BONEYARDS



Farther south you'll find the city-run Stonesteps Beach (in the next image below), Moonlight Beach and Boneyards Beach. Stonesteps lives up to its name with a beach that disappears at high tide (be sure to check tide charts before visiting this beach).


Wide and sandy Moonlight beach, below a residential neighborhood, is a popular family beach with picnic areas, thatched gazebos, fire pits, volleyballand even tennis courts.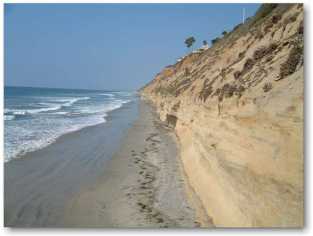 More intimate Boneyards Beach is a series of coves only accessible from Swami's Beach, but perfect for smaller groups for picnics, swimming and surfing.



SWAMI'S BEACH



Swami's Beach gets its name from the nearby Self realization Fellowship Retreat Gardens and Hermitage, established by Indian swami Paramahansa Yogananda in 1937.


Swami's Beach (sometimes misspelled as Swammi's Beach) draws experienced surfers, especially during the winter months, for its variety of high-quality breaks, both on the beach, offshore on the reefs and a unique right-point break.


If you're not a surfer, this beach is not ideal for swimming or sunbathing due to the surfing crowds, but if you're not a surfer and want to watch some of the best in the sport, Swami's may be the perfect Encinitas beach.


Photo Opportunity: Be sure to bring your camera to Swami's Beach to catch some amazing surfing!



SAN ELIJO STATE BEACH, CARDIFF STATE BEACH



San Elijo State Beach, north of the mouth of the lagoon, and Cardiff State Beach to its south draw campers, sunbathers, and, perhaps surprisingly, "foodies," who come for Cardiff's "Restaurant Row."


San Elijo has offshore reefs that keep the wave breaks far from the wide beach, making it a choice spot for swimmers and sun bathers.



CATCH SOME WIND, WAVES, FISH



Kite surfing and surf fishing are popular here, too. Try surfing at Pipes at San Elijo, or enjoy a picnic at Cardiff Reef Park at the end of San Elijo's camping area.


At Cardiff, waves break directly on the pedestrian-unfriendly cobblestone shore. If you can find a space in the limited parking, enjoy the beach from the comfort of one of the many eateries along Restaurant Row.



AMMENITIES



Cardiff State Beach has a boat launch and tide pools; San Elijo has 171 overnight camping spots on the cliffs overlooking the beach.


San Elijo State Beach is also one of 85 state parks in California offering free AT&T wireless Internet access, or Wi-Fi.



STAYING NEARBY?



Be sure to visit our Cardiff hotels page for accomodations near the beach. We've also got accommodations, dining and beach stuff in nearby cities on our pages for Solana Beach, our Carlsbad page and our Del Mar page.




Don't miss these related pages...

Encinitas Introduction Page

Cardiff and Nearby Hotels

Nearby Restaurants

Carlsbad Introduction Page

Solana Beach Introduction Page



Come back to our Encinitas beaches page soon! We'll be adding more beach parking and directions information.



---
Photos Courtesy Encinitas Chamber & Visitors Center
---
Return to the Encinitas page

Return to the home page.