Malibu Beaches Directions, Parking and Hours
An overview of Malibu Beaches directions, parking and hours:
Topanga Beach18700 Pacific Coast HighwayEntrance is at Topanga Canyon BoulevardParking for 93 cars.Hours: 7 a.m. to 10 p.m.


Las Tunas County Beach19444 Pacific Coast HighwayParking along highway.Hours: 7 a.m. to 10 p.m.


Dan Blocker County Beach26000 Pacific Coast Highway.Parking along highway.Hours: 7 a.m. to 10 p.m.


Malibu Lagoon State Beach (Surfrider and Malibu Beach access)Pacific Coast Highway at Cross Creek RoadState Beach parking lot is located on the west side of the Malibu Creek Bridge. A county lot is directly in front of the Adamson House.Hours: Grounds are open seven days a week 8:00 am to sunset.


Point Dume State BeachWestward Beach Road at Pacific Coast HighwayBluff-top parkingHours: Sunrise to sunset.Note: Point Dume State Beach is one of the few California State Parks that does not accept the State Park's Annual Day Use Pass.


Zuma Beach30000 Pacific Coast HighwayParking lot inside beach entrance.Hours: 7 a.m. to 10 p.m.


Nicholas Canyon33850 Pacific Coast HighwayParking for 151 cars.Hours: 7 a.m. to 10 p.m.


Robert H. Meyer Memorial State Beach10 miles west of central Malibu, on Pacific Coast Highway.Look for the access signs for the three beaches that comprise Robert H. Meyer Memorial State Beach: El Pescador Beach, La Piedra Beach and El Matador Beach.Parking along the highway.Hours: contact the regional California State Beach office for hours: (818) 880-0350.


Leo Carrillo State Park35000 W. Pacific Coast HighwayParking along beach area and camping area.

Hours: Gate is locked from 10 p.m. to 7 a.m.No entry after 10 p.m.
Further Malibu Beaches Directions are available at the California State Parks web site.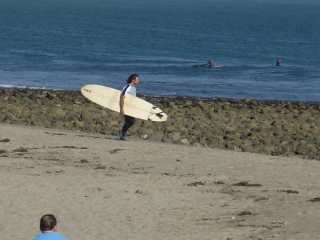 Return from the Malibu Beaches Directions page
to the Malibu Beaches page.

Return to the West-coast-beach-vacations.com home page.