Long Beach Lighthouse Inventory: A Three-fer
Long Beach Lighthouses -- would you believe there's three of them?


To start, check out the lighthouse in Rainbow Harbor (shown at left). Quaint, traditional and...old?


It's actually a faux lighthouse dedicated in 2000.


Called The Lighthouse for Sight, and presented as a gift from the local Lions Club, it symbolizes the club's fundraising for the visually impaired. Computerized colored lights in its base contribute to a nightly light show in the harbor.


It's not the only fake lighthouse in Long Beach Harbor: Parker's Lighthouse seafood restaurant on the water in the Shoreline Village area has an Atlantic coast-style lighthouse beacon capping its roof.


But Long Beach's lighthouse count doesn't stop there.


The real lighthouse doesn't look like a lighthouse at all. Nicknamed the "Robot Light," the boxy, unmanned 1949 beacon was designed to withstand earthquakes, tidal waves and, obviously, from the photo in this next link, a bad case of the uglies.



For photos and more information about "The Robot," check out this Web site from some lighthouse enthusiasts.




Come back soon: we'll be adding more lighthouse images.




Don't miss these related pages...

Long Beach Introduction

Long Beach Waterfront and Beaches

Long Beach Hotels

Long Beach Restaurants

Long Beach Lighthouse Parking and Directions




---
Photos courtesy Long Beach Convention and Visitors Bureau
---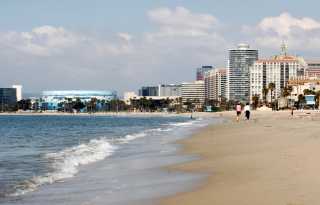 Return to the West Coast Beach Vacations home page.