Long Beach Waterfront: Belmont Shore, Mothers Beach, Alamitos Bay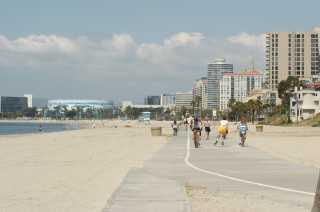 Enjoy the "official" Long Beach waterfront at Rainbow Harbor, then get away from downtown, and find the rest of this town's waterfront and beaches.


Step back in time and pace at Belmont Shore, or as it's called locally, "The Shore."


This is Long Beach's ocean-facing beach. Waves here may not be as strong as at beaches to the north or south, that's because there's a nine-mile breakwater just offshore.


It also means that The Shore makes for a peaceful getaway from urban bustle.



YOU HAVE TO FIND IT FIRST



Access to The Shore isn't easy for visitors. It's mostly an old-fashioned beach neighborhood -- not commercial. But the eclectic Second Street shopping district is a modest walk away, and where there's shoppers there's cars -- and parking.


Close to the beach expect one-way streets, scant public parking and few public restrooms. Public parking and restrooms are available, however, near Belmont Pier and parking is also available on the streets near the pier.


Once you do get there, The Shore offers a wide, sandy beach (usually uncrowded), a three-mile bike/jogging path, volleyball, and fishing from the pier. Visitors can rent skates, bikes, umbrellas and beach chairs.



ALAMITOS BAY BEACH, MARINE PARK, NAPLES



Inland, at the end of Long Beach's Ocean Boulevard, another Long Beach waterfront and more beach awaits on the marina side at Alamitos Bay Beach, and in Long Beach's Naples neighborhood, at Marine Park, also known as "Mother's Beach" for its gentle waves and shallow swim area.


Naples, by the way, was originally developed in the style of Italian canal cities, and real gondolas are can be rented for rides around the Naples canals.


Come back soon to our Long Beach page: we'll be adding more dining, activities and accommodations news.




Don't miss these related pages...

Long Beach Introduction

Lighthouse Trifecta

Long Beach Hotels

Long Beach Restaurants

Long Beach Waterfront Parking and Directions




---
Photos courtesy Long Beach Convention and Visitors Bureau
---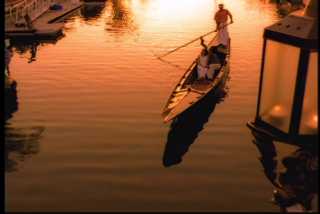 Return to the West Coast Beach Vacations home page